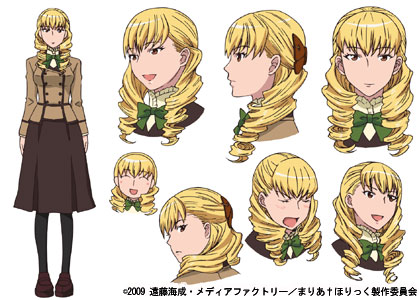 Ayari Shiki runs the school's student council. She is Mariya Shidou's and Shizu Shidou's cousin, and has a standing rivalry with Mariya. She calls him 'Flat Chest', as he calls her 'Fat Ass'.
Apparently, the cause of the animosity between Mariya Shidou and Ayari Shiki happened because of a childhood incident where she had her dress ripped open supposedly by Mariya Shidou (and her underwear exposed). Because of that incident, she got called "Panda-Chang" after the mascot character printed on her underwear and all sorts of nicknames related to pandas. This was all before Mariya Shidou and Shizu Shidou switched
She blames Mariya Shidou for this incident and therefore holds a grudge on him for that. Ayari Shiki and Mariya Shidou look much alike and are about the same height.
Ad blocker interference detected!
Wikia is a free-to-use site that makes money from advertising. We have a modified experience for viewers using ad blockers

Wikia is not accessible if you've made further modifications. Remove the custom ad blocker rule(s) and the page will load as expected.